---
I PUBLISHED
canine magazine: Pes přítel člověka number 7/2011
After clicking on the title page opens to full text KPCHP.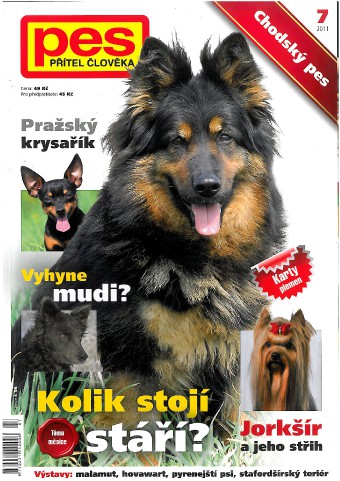 On the cover photo: Champion Kesie z Dašického zátiší
Here I offer translation of some parts of the article.
Excuse me, please, as many mistakes. I teach English in a short time.
(or with love and colloquially called
,,choďák ")
Already roughly from 13 century were the inhabitants of the southwestern border areas guarding important routes assist tenacious and resistant dogs. Their task was not only to accompany their masters, to guard and defend these routes and possessions of their masters, but were used for grazing and probably in this period also in the hunt.
At the end of 19-eighteenth century depiction Chodsko dog appeared in the drawings by M. Ales (the book Psohlavci) from Horice sandstone carved Č.Vosmík was designed by the sculptor F. Hosek Kozina's memorial and Chodský dogs were mentioned in the memories of the history ethnographyc J . Š. Baar.
In the postwar period, the breed fell into oblivion. Still, some fans tried to build around 1948 proposal for the recognition Chodský dog canine International Federation - FCI.
In year
1970 made movie director V. Plívová-
Šimková fim

,
where he moved representative Bohemian Shepherd dogs (movie name: Lyšáci,
Myšáci a Šibeničák)

.
His photographs can be found in a book, published by Albatros.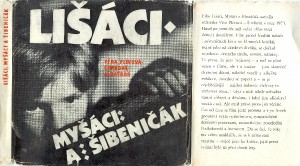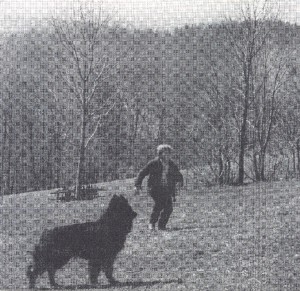 Around 1983 he began to consider the possibility of regeneration of the original historic breed. The possibility of recreating Chodský dog brought Mr. Findejs (cynologists and referee for dogs, which also published the standard Chodský dog and was chairman KPCHP) an expert on cynology Mr. Doc. dr. William Kurz, because according to him had this and some other breeds real chance of recovery.
And so in 1984 were printed in canine magazine
pictures of the breeds with a call for the eventual owners.
In the following year was in the kennel, the Barance "bred first Bohemian Shepherd puppies litter of registered dogs.
Since 1985, when this first litter regenerate Bessy and Dixie was born, walked breeding of this breed a considerable piece of road to today's breeding litters, whose numbers exceeded the notation at the beginning of the year 3550 registered individuals boundary.
His role on the fact that the Bohemian shepherd found since the beginning of his supporters, probably played a goal set out by breeding (breeding dogs pretty natural look without any extreme outdoor signs, dogs good health, vigorous and resistant to weathering, versatile dog with a lively temperament, with a pleasant nature), but also the interest of Czech cynologists participate in the development and promotion of our national breed follows the historical tradition of the original guard and herding dogs and border of the Czech countryside.
Breed had a fortune on an active owner who went to common walks, went to the exhibition, devoted to training, breeding and promoting little-known breed. The Chod dog is reported in journals, has published his memoir book written by Ing. Findejs. Chod dogs also could be seen for example in TV broadcast: ,,Recipe book".
Basic characteristics of the Bohemian Shepherd dogs as originally published on October 28, 1984 standard states:


Medium sized dog of shepherd-type frame with a rectangular body.

It has a long coat with a woolly undercoat, which makes it hardy and resistant to weathering.

It features a harmonious physique.

All body parts are aligned so that the whole compact and graceful.

Characteristic of the breed's status and its short ears, elegant lines long neck and neck as well as the richness of long hair.

His movement is light and free.
The complete standard can be read on the website as KPCHP (www.kpchp.org).


What is the typical Bohemian shepherd and what distinguishes it from other

, according to what it should be,'' Chodský dog know even if we see only the dog silhouette against the sun (when color is not visible) are: body size, head

and hair.
(See photo in the position of females in No. 4/2011 of the magazine)
The format of the body is slightly rectangular, with fixed back and height equal to 52 to 55 cm for males, 49 to 52 cm for females, perhaps 2 cm deviation - that is 50-57 for males, 47 to 54 cm for females.


Head Chodský dog against some of the dog herding breeds more subtle and less

muzzle, which is shorter than the length of the skull.

For a typical expression of the head is very important to the ear.

It should be short, broad at the base of an upright, close to each other, and richly feathered.

The head may seem massive, not too gently.

Do not be too curved, or have a flat forehead.


Chodský dog coat is long, thick and shiny, except of the face, ears and tip the front of the hind legs where the hair is short, shiny and smooth.

On the back of the legs are feathered coat.

Long hair should be straight, it is recognized, however, slightly wavy.

On the neck and chest is slightly open, otherwise contiguous.

It is only permissible color black with characters (but tolerated small white patch on the chest).


Length of hair varies not only between individuals (standard specifies 5 to 12 cm), but even in the same individual according to age.

Puppies have first dense undercoat soft and dull.

(Excellent insulation against the cold).

About 5 months of age gradually grows longer, harder, glossy top coat and undercoat remains abundant (in winter).

Juniors are molting into the first because very handsome and have a really heavily feathered ears, giving them more visually shorten it.


After the first moult (after 1 year of age) with individuals often look quite changed.

The hair is much shorter and less rich and thus change the overall expression of the individual.


Thus it remains only difference - and without undercoat undercoat, with the season about to 3

years of age.


Then coat CHP gathers again and we can say that it is richer from year to year.

(This is why the owners appreciate the CHP intermediate formation, bringing together the individuals in a comparable condition of the coat. They simply can not compete in this respect, individuals older than 3 years.)


The coat has a self-cleaning ability.

Routine maintenance is carried out only combing and brushing.


It is naturally oily and if Chodský dog gets wet, just wet the surface.

The skin does not get water.

You Chodský dogs do not like wet.

On the contrary, snow, especially fresh powder, they love to play, but often lies, whole covered in snow, outdoors.
That is usually why laymen, but, paradoxically, sometimes exterior Assessors are placing more emphasis than it is for the characters are.


They are, at least in terms of fitness for a dog, much less substantial exterior aspect.

Even an individual who has an ideal range of characters in a beautifully rich, otherwise it may be unusual - see what was written above the skyline.


In addition, the layout and color characteristics during life changes (undercoat has less pigment, so in summer coat without undercoat characters are deeper and better defined, with advancing age are the highlights saturation character loses or

highlights

appears black, is a frequent phenomenon that

with advancing age, some individuals who had separated in childhood characters, the characters gradually expands to fuse, etc,).

Yet the scale of characters add that should be clearly visible from a distance in all the required parts and on the other hand, separated black hair.

Given the long hair on the chest may be localized exactly.

Completely fused into each character should be penalized as well as the absence of written characters in any game.


The characters are vivid reddish hue, the better.


On the contrary, what they judge to emphasize the exterior is precisely what is typical of the breed, the more it differs from the others.

Should always be penalized by reducing the signs of a weak and fragile skeleton acting, ,, leggying " , flat face, long and narrow muzzle, long ears and bald, and especially a combination of long ear and muzzle.


Usually, an individual with a long snout while long ear.

At the same time must be penalized with heavier dogs too massive muzzle.


For not only hard, straight back, dark eye, correct size of body, nice movement and a long coat is important, and most importantly -

these breed characteristics don´t different from other breeds .
------------
Incomplete text -
site is

in the middle

construction
------------------------------
canine magazine : Pes přítel člověka number 4/11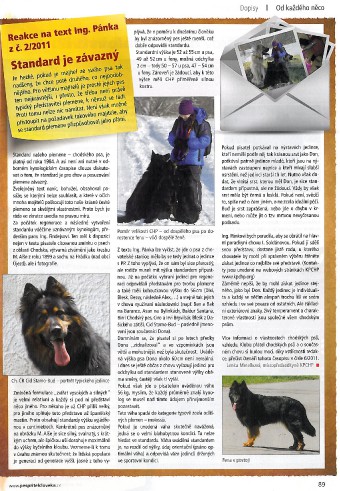 Incomplete text -
site is

in the middle

construction